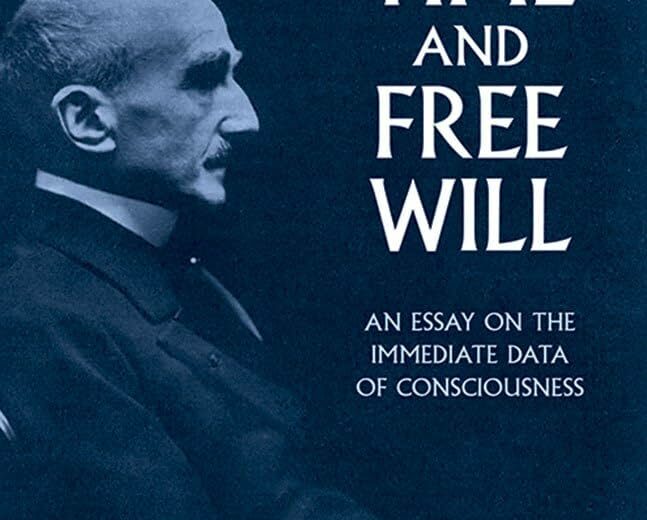 Bergson, Time and Free Will
Henri Bergson (1859-1941) was the leading French philosopher of the first half of the 20th century. Near the end of his life when he was forced to register with the police in Nazi-occupied France he wrote: 'Academic. Philosopher. Nobel prize winner. Jew.'
He was indeed all these things and many more, being as famous in his lifetime for his political activities, working with US President Woodrow Wilson to found the League of Nations, as for being a member of the Académie française and president of the Society for Psychic Research.
Time and Free Will, his doctoral thesis, was published as a book in 1889 and attacks and rejects the mechanistic view of causality described in Kant's version of space and time and proceeds to attempt to define free-will and consciousness by separating space and time. In the process he ascribes temporality to the immediate data of consciousness, or lived time, calling it 'the duration', la durée.
This duration is a key concept in his philosophy. He defines this state as the precondition for the possibility of free will and declares that freedom is mobility. He argues that science cannot measure changes in consciousness qualitatively, only quantitively. His approach is dualistic, expressing a preference for instinct, or intuition, to intellect and characterises intuition as memory rather than perception.
In effect he asserts that free will is a fact. For Bergson intuition is experience in action and entering into the thing or state, empathy, is the way to absolute, rather than relative knowledge.
His writing is remarkable for his use of striking imagery – his Nobel prize in 1927 was for literature – but in spite of this imagery which he relies on to illuminate his meaning, he was adamant that no fixed image can adequately represent the mobility he refers to, the unending 'becomings' of life.
His influence seemed to fade after World War II with the coming of a new generation of continental philosophers including Jean Paul Sartre and Maurice Merleau-Ponty – existentialists, whose interests lay in responding to Husserlian phenomenology and the thinking of Heidegger.
However, there has a been a growing resurgence of interest in his writings because of the acknowledged importance of his ideas to the work of Gilles Deleuze, who found in Bergson's notion of an open society a response to the dominant arguments of phenomenology.
Hindu writers have also noted similarities between Bergson's ideas on matter, consciousness, intuition and evolution with Hindu thinking and perspectives.
Download
Bergson_Time and Free Will.pdf
Bergson_Time and Free Will.txt
Bergson_Time and Free Will.html
Bergson_Time and Free Will.jpg