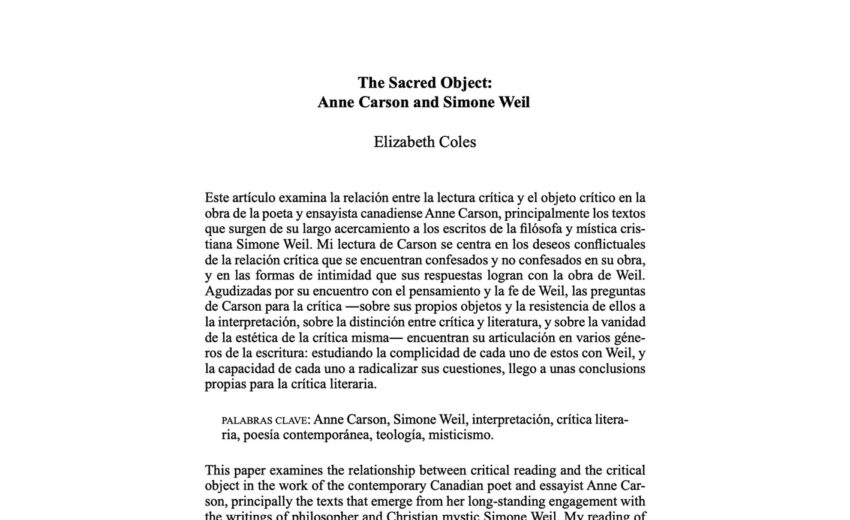 Coles, The Sacred Object
This paper examines the relationship between critical reading and the critical object in the work of Canadian poet and essayist Anne Carson, primarily the texts that emerge from her long engagement with the writings of Christian philosopher and mystic Simone Weil. My reading of Carson focuses on the conflictual desires of critical relation that are both confessed and unconfessed in her work, and on the forms of intimacy that her responses achieve with Weil's work. Sharpened by her encounter with Weil's thought and faith, Carson's questions for criticism – about her own objects and their resistance to interpretation, about the distinction between criticism and literature, and about the vanity of the aesthetics of criticism itself – find their articulation in various genres of writing: by studying the complicity of each of these with Weil, and the capacity of each to radicalise her questions, I arrive at conclusions of my own for literary criticism.
Elizabeth Sarah Coles is a Marie Sklodowska-Curie Postdoctoral Fellow at the Universitat Pompeu Fabra in Barcelona. She studied at the University of Cambridge, winning the Wood-Whistler Medal and Scholarship, and at Queen Mary, University of London. She is co-editor of Wild Analysis (2022).
Download
Coles_The Sacred Object.pdf
Coles_The Sacred Object.txt
Coles_The Sacred Object.html
Coles_The Sacred Object.jpg