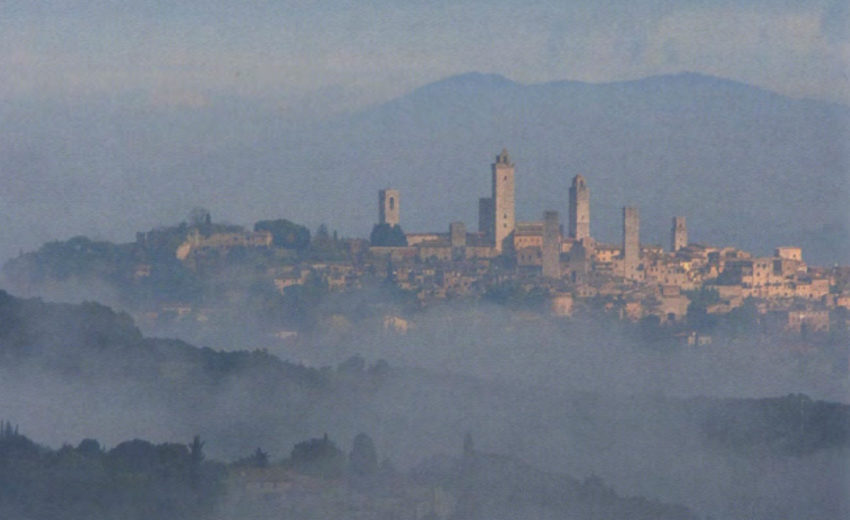 Galli, Travel through the Fifteenth Century
An imaginary thread winds through the hills of Siena and its countryside. A guiding thread connecting the art of the fifteenth century with the marvels of nature and the tradition of good food and wine.
Following this thread, marked off by the various sites of the Sienese Museum, unexpected discoveries can be made, and unforeseen encounters amidst the elegance of gold-ground painting and the refinement of wooden sculptures. The same emotions aroused by the poetry of the landscape, steeped in history and culture like the villages for which this art was created.
Places described by artist and writers, loved by those who live there and those who have the good fortune to encounter them, recounted in four intineraries following in the tracks of travelers who have gone before.
Gold is the guiding thread for a journey through the land of Siena along the fifteenth century. The gold of the backgrounds of paintings by Taddeo di Bartolo, Sano di Pietro, the Osservanza Master, Giovanni di Paolo, and Matteo di Giovanni. But also the gold of the angels' wings, the trim on the sumptuous robes of the saints, and the border of the Virgin Mary's cloak-these gentle, sweet-faced Madonnas.
Download
Galli_Travel through the Fifteenth Century.pdf
Galli_Travel through the Fifteenth Century.txt
Galli_Travel through the Fifteenth Century.html
Galli_Travel through the Fifteenth Century.jpg
Galli_Travel through the Fifteenth Century.zip