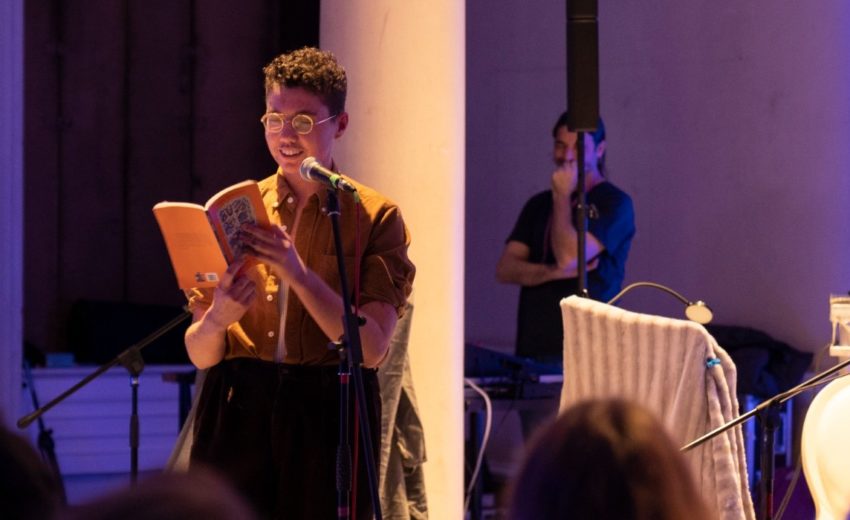 Heinemann, FUCKING PANSIES: Queer Poetics, Plant Reproduction, Plant Poetics, Queer Reproduction
Caspar Heinemann is a poet, artist, writer and academia-adjacent independent researcher based in Glasgow and Berlin. His research interests include critical mysticism, gay biosemiotics, illegitimate communisms, and professional irreverence.
In Heinemann's recent two-person exhibition with Alex Margo Arden, "The Farmyard is not a Violent Place and I Look Exactly Like Judy Garland," the artists went "camping" in the gallery space as universe, with an entirely collapsible stage set. Acting as sole writers, directors, choreographers, performers, set, costume, lighting, and sound designers, the artists structured a series of transitional moments, bringing a counterpoint to the traditional language of theatre and coercing the audiences into communal psychological engagement. Between performances, the deactivated space evoked a closed shop, or off-season seaside town. The production emerges from shared interests in pre-history, gender illusion, marginalised mediumship, 'the end' of 'the world', theatrical convention, soft power, binary oppositions, cults, chronic wounds, puppetry, and fate.
Bhanu Kapil, reviewing Heinemann's debut collection of poetry, "Novelty Theory," writes: "Heinemann has written an anthem for alien beloveds everywhere, in the time before rising up and where the 'pre-nothings' burn up as soon as you touch them. Reading this book burst adhesions in my outlook, which is what I want (always.) A book without an afterwards or a before, 'Novelty Theory' occupies an intense present that does not console its readers. Can poetry be a form of cultural revenge?"
Download
Heinemann_Fucking Pansies.pdf
Heinemann_Fucking Pansies.txt
Heinemann_Fucking Pansies.html
Heinemann_Fucking Pansies.jpg
Heinemann_Fucking Pansies.zip