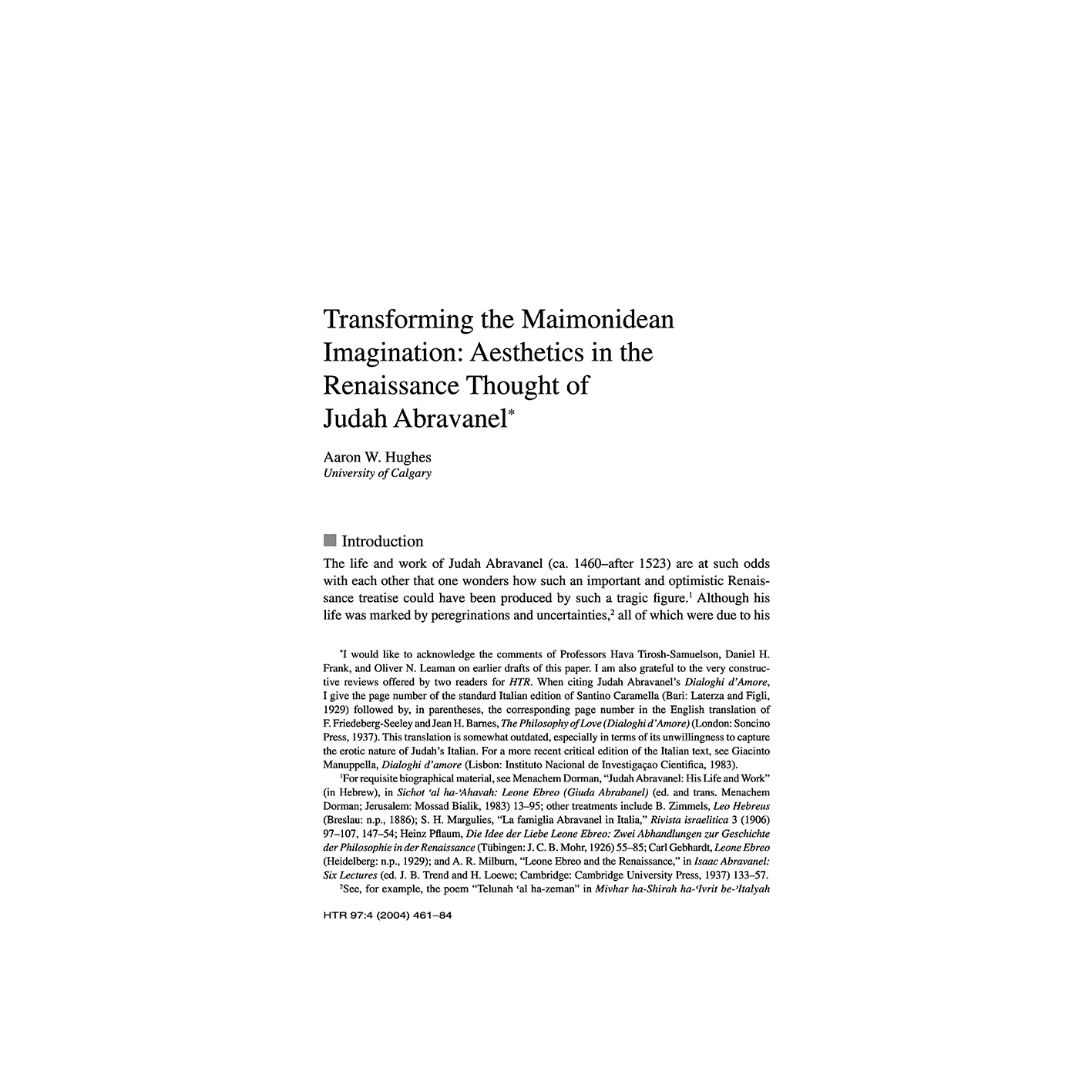 Hughes, Transforming the Maimonidean Imagination
In the Dialoghi, Judah has adopted certain trajectories of medieval cosmology and psychology, combined them with Renaissance notions of beauty, and thereby created a full-blown aesthetics of Judaism. He conceives of the cosmos as a living, dynamic structure, in which all levels share in a symbiotic and organic relationship. This world of form and matter is not defined by its privation or distance from the divine; rather, it becomes the arena wherein embodied individuals encounter, visually and imaginatively, the beauty and love of the divine. It is this emphasis on imagination, aesthetics, and the phenomenal world that would eventually become such an important dimension of sixteenth- and seventeenth-century natural philosophy.
I have argued that the crucial feature of Judah's system is the imagination. It is the faculty that is ultimately responsible for delineating the relationship between the corporeal and the spiritual, and subsequently translating them into one another. Whereas Maimonides had confined the imagination—not to mention aesthetics—to the realm of opinion, for Judah, this faculty becomes the primary locus whereby the individual divests the corporeal from the spiritual in order that the intellect can engage in its activity of contemplation. Even though Judah's system culminates in the intellectual love of God, such love is only possible with the aid of both the imagination and aesthetics.
Aaron W. Hughes is a Canadian academic, author, and professor of Religious studies. He holds the Dean's Professor of the Humanities and the Philip S. Bernstein Professor of Religious Studies in the Department of Religion and Classics at the University of Rochester. Previously, he was the Gordon and Gretchen Gross Professor of Jewish Studies at the University at Buffalo, State University of New York from 2009 to 2012, and, from 2001 to 2009, Professor of Religious Studies at the University of Calgary in Alberta, Canada.
Download
Hughes_Transforming the Maimonidean Imagination.pdf
Hughes_Transforming the Maimonidean Imagination.txt
Hughes_Transforming the Maimonidean Imagination.html
Hughes_Transforming the Maimonidean Imagination.jpg